How to Write website content
Do you need to craft content for a new web page? For most, this marks the beginning of an endless cycle with developers, upper management or even clients over what content you need to create. This page will walk you through how to use our three step guide to create your content for any web page, and simplify the entire website content creation process.
Filling out our guide the right way will make it easy for FourteenG to transfer approved content on to a web page and not have to guess where it should go. Below we have everything you need including editable sections that you can customize for each web page you create. Let's get started: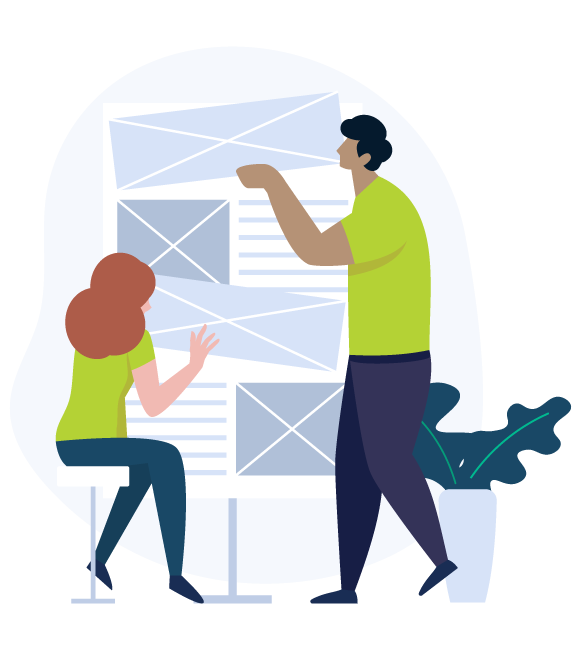 Develop Content before designing
Why should you always create content before design? First, it's important to know what purpose a page will serve before it can be designed. 
Content needs to be reviewed and approved BEFORE publishing, to not only save time but to also avoid making edits to live pages later in the process.
Take a look at the typical contents and layout of a interior webpage. It is recommended to limit additional content sections(Subheader & Additional Body Content) to three, in order to keep readers engaged. This is only an example of a type of layout, as they will vary depending on the content, product, service and/or purpose of the webpage. 
The first step of creating content for your new web page is to develop a plan. Begin by answering the following questions before you write:
What type of content are you writing? (A product page, a help doc, etc.)
Who are you targeting? Who do you want to reach and what message do you need to share with them that will capture their attention?
What is the purpose of this page? How does the content on this page affect the overall experience on your website?
What questions does this page need to answer for your audience? You're creating this page and this content for a reason. Your audience is looking for answers. What are they and what do you need to tell them?
Research Your Topic and Keywords
Keywords are the terms or phrases that your potential customers are typing into search engines, or your website to find what they are looking for. Both of these searches play an essential role in how you create your messaging.
You need to be able to see what people are referring to your product as. Start by listing the keywords and secondary terms you may want your webpage to include information on.
Make a list of terms that relate back to the product or service that you are writing your content about and try to naturally work them in wherever possible. These terms can also give you ideas for new pages you should create. We will ask for 5 keywords to get started but the more keywords the better results.
Write Your Webpage Content
You're finally ready to write your web page content. However, each message that you write will be used in a different section of your website. We will break this down by section.
Now let's write some attention grabbing content! We've provided a simple three step from for you to fill out to begin creating all of your webpage content.